History Of Ivy League Academy
1986 – Ivy League Preschool is established.
1988 – Ivy League Preschool began doing business as Ivy League Academy.
April 1989 – The school was acquired by Anthony and Shirley Dimino for the purpose of forming a Christian preschool for ages 2 through 4 years of age.                                                                          1991 – A second facility was leased in the Birchwood Gardens area of Va. Beach for students through Kindergarten.
   1993 – Pembroke Manor House (1764) was purchased with 100 students through the first grade, becoming Ivy League Academy.
2003 – In response to the growing student population ILA added grades 6 and 7.
   2015 – The Pembroke Manor House was closed and the school was moved to the First Church of the Nazarene, a larger facility onb Wishart Rd.  Stafford Prep School of Virginia invests in Ivy League Academy and adds grades 7 through 12.
2016 – ILA officially partnered with Shanghai Oriental Foreign Language School and began implementation of the Exchange Program. Ivy League is now in the process of expanding in it's new location at 4413 Wishart Rd. (located in the Haygood area of Virginia Beach).
The primary purpose of the school is to prepare the student with an excellent Christian education to convey the message of Christ and become an enlightening force in the world.  Dr. Benjamin Rush, author of the first American chemistry textbook, and signer of the Declaration of Independence once said of education, "I believe no man was ever instructed in the truths of the Bible without having been made wiser or better by the early operation of these impressions upon his mind."  Many of the graduate students' parents comment on the strong foundation formed at the school and how it remains with the child throughout their learning years.
The academics are challenging, and each student is encouraged to work to the highest level of his ability.  The normal student scores two years above the national average (scores taken from the Stanford Achievement test administered each year).
Affording students a quality education, the classes remain small.  The teachers  are educationally prepared to give their students a thorough scholastic background, realizing their accountability before God as a teacher.
Ivy League Academy's Statement of Faith
We believe…
In one divine God with three eternal distinctions respectively known as Father, Son and Holy Spirit. The old and new testaments of the Bible to be inerrant and infallible and to have been fully and verbally inspired of God, carrying his divine authority. God created the universe, and man was created by God in His image. In the deity, incarnation, virgin birth, death, and resurrection of our Lord and Saviour, Jesus Christ. The fall of man caused sin to enter the world, and that all men are sinners. That each individual can only be redeemed and reconciled to God by accepting Jesus Christ and His work on the cross. In the second coming of Jesus Christ to rapture those who believe.
The Vision of Ivy League Academy
Ivy League Academy desires for each young person to be academically prepared to meet the demands of any post-secondary schooling; to be a productive member of society that demonstrates Christ-likeness in the giving of time, talents, and gifts; and to be convinced and therefore convicted to whole-heartedly follow Christ in mind, body, and spirit.
The Mission of Ivy League Academy
The Mission of Ivy League Academy is to equip students for advanced studies, societal service, and the call of Christ.
ILA provides a college preparatory and general academic program for elementary and secondary students. In addition to academic excellence, ILA is passionate about teaching its students a biblical worldview and leading them into a personal relationship with Jesus Christ. This IS preparation for life.
Proverbs 1:7 indicates that "the fear of the Lord is the beginning of knowledge." All learning must be integrated from this starting point and is meaningful only in the context of man's acknowledgement of God's existence and sovereignty.
All academic and extracurricular programs are designed to develop the student's positive self-concept so each student may reach full human and spiritual potential. The student is challenged to grow in spiritual, intellectual, moral, physical, emotional, and social dimensions.
School Objectives
Ivy League Academy
Ivy League Academy equips students for advanced studies, societal service, and the call of Christ.   The equipping is achieved within four main areas – physical, mental, spiritual, and social.
Physically
The student will realize that the body was bought with a price and is meant to be used for the glory of God.
1 Corinthians 6:19-20Or do you not know that your body is a temple of the Holy Spirit within you, whom you have from God? You are not your own, for you were bought with a price. So glorify God in your body.
The student will discipline the body for Christ-like control so as to be a good role model.
1 Corinthians 9:27
But I discipline my body and keep it under control, lest after preaching to others I myself should be disqualified. The student will believe that in Christ, nothing is too much for the body to handle.
Philippians 4:13 I can do all things through Christ who strengthens me.
The student will comprehend that the Lord is one who renews strength for His work.
Isaiah 40:28-31 Have you not known? Have you not heard? The Lord is the everlasting God, the Creator of the ends of the earth. He does not faint or grow weary; his understanding is unsearchable. He gives power to the faint, and to him who has no might he increases strength. Even youths shall faint and be weary, and young men shall fall exhausted; but they who wait for the Lord shall renew their strength; they shall mount up with wings like eagles; they shall run and not be weary; they shall walk and not faint.
The student will complete the task and not give up.
2 Timothy 4:7 I have fought the good fight, I have finished the race, I have kept the faith.
Mentally
The learner will acquire knowledge in math, science, English, history, fine arts, languages, and technology.
Proverbs 18:15 An intelligent heart acquires knowledge, and the ear of the wise seeks knowledge.
The learner will seek instruction and memorize scripture.
Proverbs 3:1-6  My son, do not forget my teaching, but let your heart keep my commandments, for length of days and years of life and peace they will add to you. Let not steadfast love and faithfulness forsake you; bind them around your neck; write them on the tablet of your heart. So you will find favor and good success in the sight of God and man. Trust in the Lord with all your heart, and do not lean on your own understanding. In all your ways acknowledge Him and He shall direct your path.
The learner will know how to find the knowledge of God.
Proverbs 2:1-22  My son, if you receive my words and treasure up my commandments with you, making your ear attentive to wisdom and inclining your heart to understanding; yes, if you call out for insight and raise your voice for understanding, if you seek it like silver and search for it as for hidden treasures, then you will understand the fear of the Lord and find the knowledge of God.
Socially
The student will understand the importance of loyal friends.
Ecclesiastes 4:9-12 Two are better than one, because they have a good reward for their toil. For if they fall, one will lift up his fellow. But woe to him who is alone when he falls and has not another to lift him up! Again, if two lie together, they keep warm, but how can one keep warm alone? And though a man might prevail against one who is alone, two will withstand him—a threefold cord is not quickly broken.
The student will provide truth to his friend.
Proverbs 27:9  Oil and perfume make the heart glad, and the sweetness of a friend comes from his earnest counsel.
The student will help his friend be more Christ-like and choose a friend that will do the same for him.
Proverbs 27:17 Iron sharpens iron, and one man sharpens another.
Spiritually
The student will know that he has the ability to receive the Holy Spirit into his life to fulfill his purpose.
Acts 1:8But you will receive power when the Holy Spirit has come upon you, and you will be my witnesses in Jerusalem and in all Judea and Samaria, and to the end of the earth.
The student will know how a spirit-filled life appears.
Colossians 3:16  Let the word of Christ dwell in you richly, teaching and admonishing one another in all wisdom, singing psalms and hymns and spiritual songs, with thankfulness in your hearts to God.
Ephesians 5:1-5  Therefore be imitators of God, as beloved children. And walk in love, as Christ loved us and gave himself up for us, a fragrant offering and sacrifice to God. But sexual immorality and all impurity or covetousness must not even be named among you, as is proper among saints. Let there be no filthiness nor foolish talk nor crude joking, which are out of place, but instead let there be thanksgiving. For you may be sure of this, that everyone who is sexually immoral or impure, or who is covetous (that is, an idolater), has no inheritance in the kingdom of Christ and God.
The student will understand God calls those full of His spirit to do His work.
Acts 6:3  Therefore, brothers, pick out from among you seven men of good repute, full of the Spirit and of wisdom, whom we will appoint to this duty.
John 14:26  But the Helper, the Holy Spirit, whom the Father will send in my name, he will teach you all things and bring to your remembrance all that I have said to you.
The student will understand the assurance of salvation.
Romans 8:9  You, however, are not in the flesh but in the Spirit, if in fact the Spirit of God dwells in you. Anyone who does not have the Spirit of Christ does not belong to him.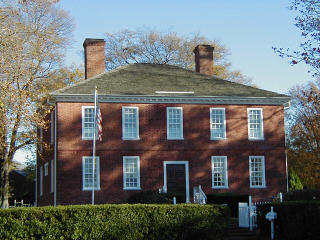 Pembroke Manor (or Pembroke) is an area in the city of Virginia Beach, Virginia located near the intersections of Virginia Beach Boulevard (U.S. Route 58) and Independence Boulevard (State Route 225). The community's name comes from Pembroke Manor, a plantation built in 1764. Formerly owned by the Princess Anne/Pembroke Historical Society. This brick mansion was built in 1764 by Pembroke who was the grandson of Jonathan Saunders who had come from England in 1695 to be the rector of Lynnhaven Parish of the Church of England. Of Flemish Bond brick, the outside has been restored to its original beauty, but much renovation was done on the inside about 1890. At the beginning of the Revolution it was the home of his grandson John Saunders, a notorious Tory, who fought throughout the war in the British Army. His house and large estate were escheated to the State and sold to Captain Henry Kellam. The house was donated by the Aragona family to the Princess Anne Historical Society. The structure itself was placed on the National Register of Historic Places in 1970 as #70000887 and is one of the oldest and most significant structures in the City of Virginia Beach.